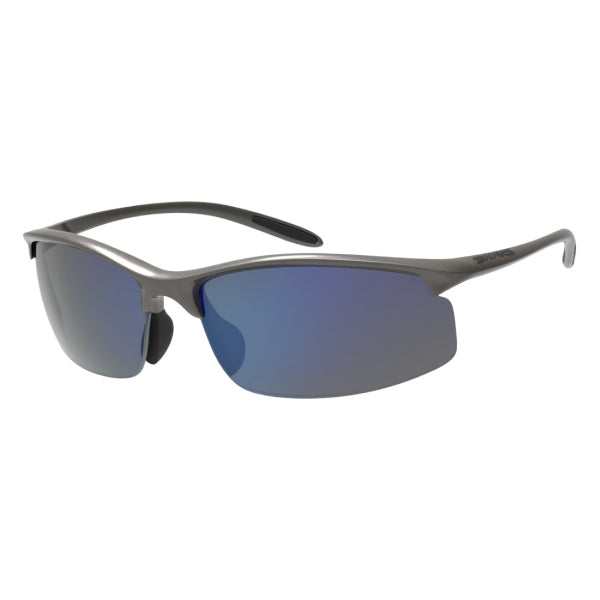 SAMV-1051 GMR
~ Popular model NEW product of Airless series ~
Pursuing "lightness" and "comfortable hanging comfort",

 
it can be used for any sports including running.

 
Adoption of an adjustable nose pad and refinement of the frame shape

 
provides even more comfortable hanging comfort.

 
■ High Performance Material Lens

 
that Protects

 

Eyes from Any Danger

 

Uses "PETROID LENS (Petroid Lens)" which is superior in impact resistance / scratch resistance.

 
It is also used for the helmet shield of space suit, using a plastic material "polycarbonate" with impact resistance of 10 times or more of glass, protecting eyes with sports scenes where intense shock and unpredictable accident may occur.

 
It also prevents scratches on the surface with its own hard coat film.

 
■

 
Protecting your

 

eyes from harmful ultraviolet rays

 

SWANS sunglasses cut all harmful ultraviolet rays by 99.9% or more.

 
Ultraviolet rays pointed out that if you expose your eyes under strong sunlight for a long time, it will also cause eye damage.

 

The SWANS Petroid lens cuts out 99.9% or more of ultraviolet rays in any lens color, and also reduces ultraviolet rays coming from the gap with a frame design fitted to the Japanese face's curve.

 

Adopting adjustable nose pad

 
that enhances fit ■

 
.

 
In the part where the nose of the frame hits, Equipped with a rubber pad that is perfect for perfect skin and a preeminent fit.

 
Customizable according to nose width and height with movable type.

 
■ Frame color: Mat gun metallic
■ Lens Color: Blue Mirror × Smoke polarization

 
■ UV transmittance: 0.1% or less

 
■ Visible light transmittance: 15%

 
■ Size: Width 140 mm / height 40 mm / Weight 17 g

 
■ case with

 
■ made in Japan