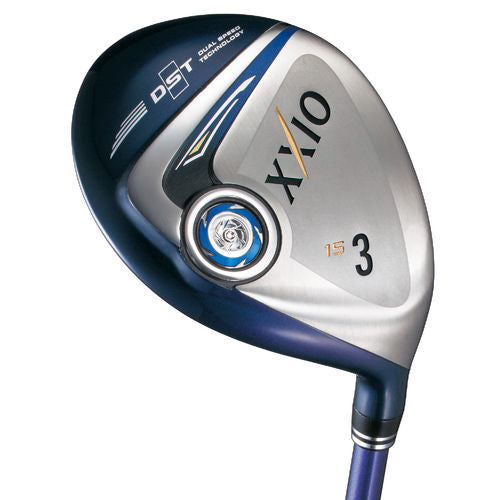 ไม้กอล์ฟ XXIO 9 Fairway ราคาพิเศษ ลดมากกว่า 40%
Regular price
18,500.00 ฿
Sale price
10,690.00 ฿
---
ไม้กอล์ฟ XXIO 9 Fairway จาก 18,500 บาท เหลือ 
10,690
 บาทเท่านั้น
XXIO 9 FAIRWAY WOOD
The XXIO9 series features Dunlop Sports Co. Ltd.'s original Dual Speed Technology, which maximizes the efficiency of the golfer's swing. The newest improvement to DST includes a boost in efficiency for the initial portion of the downswing. Lag is increased by utilizing a heavier head and a lighter shaft with a higher balance point moving the CG closer to the grip. This improvement to the club brings the club head in tighter to the body of the golfer for a more efficient swing, which generates more centrifugal force (rotational speed) for increased head speed and greater distance.
Key Features
Like the XXIO9 driver, the fairway woods feature a heavier head and a newly developed shaft that is lighter and has a balance point that is closer to the grip. These features result in a more efficient head path for greater distance. Thanks to the new face and sole design, these woods provide forgiveness for greater distance.
Higher Ball Speed Technology
XXIO Technologies
XXIO9 — Great clubs made even better
Since XXIO's debut in 2000, it has evolved through eight series and been the No. 1 seller in Japan for 16 straight years. The core concepts of the XXIO series haven't changed since the first generation—distance, forgiveness, and an exhilarating impact sound—but golfers will find the new series more advanced and attuned to their needs than ever before. For golfers that want to achieve greater distance with an easier and more enjoyable swing, XXIO9 clubs will be strong allies on the course.
New DST Explained- Dual Speed Technology has long been the driving force behind the success of XXIO. Each year from its inception there have been incremental improvements to the technology until we have arrived at the 9th generation of XXIO. XXIO9 gives the you A New Path to Power by improving the swing path and increasing head speed to maximize your distance. The heavier head helps to create more lag at the start of the downswing. The lightweight shaft and balance point closer to the grip allows the club path to be moved closer to the golfer to reduce the rotational radius. These first two components increase the golfer's arm rotational speed, which raises the centrifugal force acting upon the club. These factors work together to create more lag and in turn allow for a faster uncoiling of the club just before impact, which results in instant head acceleration where you need it most, at impact for greater distance.
XXIO 9 FAIRWAY WOOD PRODUCT SPECS
 
 
#3
#5
#7
Loft Angle (°)
 
15
18
20
Lie Angle (°)
 
58
59
59.5
Head Volume (cc)
 
184
157
145
Club Length (inch)
 
43
42
41.5
Swing Weight
 
4(S) D4(SR) D3(R)
Club Weight (g)
R
287
293
298
S
 
(*)
(*)
(*)
SR
 
R
 
(*)
(*)
(*)
Note: This is for your reference only and does not denote the content of the product.
XXIO MP900 Graphite Shaft
| | | | |
| --- | --- | --- | --- |
| Flex | Kick Point | Weight (g) | Torque |
| S | Mid | 47 | 6.0 |
| SR | Mid | 45 | 6.1 |
| L | Mid | 42 | 6.2 |
Head Material
Face: HT1770M
Body: Maraging steel
Construction
Face: Forged
Body: Lost-Wax Precision casting
Finish
High-gloss metallic with blue gradation polarized coating
Mirror, ceramic-shot, and satin finish
Plaque: Silver and navy
SPECIFICATION
| | | | |
| --- | --- | --- | --- |
| Headcover | Wrench | Interchangeable Shaft | |
| Yes | No | No | |
สอบถามเพิ่มเติมกด

 

M.ME/SRIXONALLSTAR หรือโทร 092-0494227